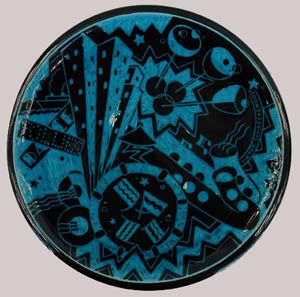 Reported in

The Plain Dealer

, a Vicktor Schreckengost Jazz Plate, titled "The New Yorker," was stolen at his wife's Cleveland Heights home. Valued at $3,700, the second edition plate was taken during a sale at the house held on Saturday the 14th of April.

The plate, part of the "Jazz Series," was designed for the Cowan Pottery studio as part of an 11 piece set. The first of which was a punch bowl entitled "New Year's Eve in New York City." The bowl was commissioned for a party, unknown to Schreckengost, by Eleleanor Roosevelt, wife of the governor of New York, Franklin Roosevelt. She enjoyed the bowl so much that she ordered two more in preparation for her husband's Presidential election.

The service plates were later added, with only a few examples selling.

For more information on the "Jazz Series," please visit thejazzseries.com.